Los Angeles, CA - Mandy Fard, Executive Director of Market-Connections Professional Resume Writing Services, has been awarded international certification as a Certified Master Resume Writer (CMRW) by Career Directors International (CDI). This Master-Level certification, the pinnacle level of competency for CDI, required Mandy to demonstrate her superior knowledge and experience in contemporary resume writing through an intensive examination of her professional writing.
She was assessed on her broad range of industry knowledge and expertise in the areas of strategy, branding, advanced visual appeal, and contextual narrative. Recognition as a CMRW sets Ms. Doe apart from the competition and distinguishes the high caliber of her credentials in assisting clientele with professional resume services.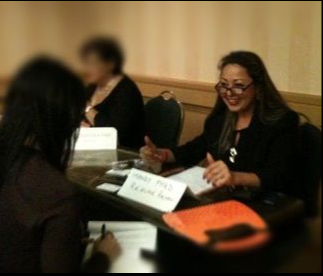 Market-Connections Professional Resume Writing Services in Los Angeles offers expert resume writing and career coaching services to entry-level through executive clientele in the global marketplace. Their expertise, led by Mandy Fard, is empowering clients to navigate the complexities of job search and emerge as successful candidates. Mandy Fard is an executive recruiter and author with over 20 years of experience in assisting clients to meet their career goals. She is the author of Finding A New Job in The New Economy. and How to Reinvent Yourself Personally. Also, she has received three national awards for resume writing from Yelp and two awards from Ad Personnel for outstanding job placements.
To learn more about Market-Connections Professional Resume Writing Services, visit https://www.market-connections.net
About Market-Connections Resume Services
Market-Connections provides professional resume writing services, executive resume services, expert cover letter development, and interview coaching for job seekers across the nation. For decades, Market-Connections has consistently been helping people achieve career satisfaction. Market-Connections uses industry-specific keywords to tailor resumes to the criteria that hiring managers seek.
Individuals can connect with Market-Connections at https://www.market-connections.net.
Q. Do you provide job search and resume writing services for accomplished professionals and C-Level executives in the industry?
A. Yes, that is where our strengths lie. The majority of projects we work on consist of leading professionals with more than 15 years of experience. They are either at the mid-management level and looking to transition to a more senior role or they are C-Level executives looking to expand their horizons.
Q. What according to you, are the common mistakes that people make while writing their resume?
A. This is a great question and it is what everybody wants to know. I will start by saying that resumes have to comply with certain rigid rules. Many nuances need to be considered in Human Resources. I would say that some of the most important things to drop from a resume are the job seeker's picture, personal information (i.e.: Date of birth, Name of parents, Social Security Number, Driver License Number, etc.), place of birth, immigration status, and pronouns, just to name a few.
Q. What other services do you offer in addition to resume writing?
A. We offer a gamut of services starting with professional resume writing to compelling cover letters, LinkedIn profile writing, Thank You letters, along with career coaching and interview coaching. Additionally, we write many other career-related documents such as job offer acceptance letters, job offer declining letters, networking letters, references, Board resumes, Federal resumes, and more.
Media Contact
Company Name: Market-Connections Professional Resume Writing Services
Contact Person: Mandy Fard
Email: Send Email
Phone: 415 655 1029
Address:2337 Roscomare Rd., Ste 2-214
City: Los Angeles
State: CA
Country: United States
Website: https://www.market-connections.net/