First, let's get a quick introduction of the prestigious platform the "METAHORSE".
An initiative of the Royal Digital Foundation, the METAHORSE draws its validity and authenticity from the Royal Family, who have had kept alive the tradition of keeping horses for centuries and are aiming to do so in the future. This blockchain pioneer, in pursuit of realizing the royal dream, has recently stepped into the GameFi projects to uphold the legacy of their forefathers as well as to become fashionable as required by the shifting trend towards Metaverse.
METHORSE is its GameFi initiative. It's the world's most advanced NFT horse GameFi platform, which enables everyone to concurrently own Digital (NFT) and physical horses. Powered by renowned Binance Smart Chain (BSC) and developed on Unity, the extremely powerful cross-platform game engine, it empowers everyone to own, and trade digital horses, and facilitates everybody to participate in horseracing competitions. Thereby allowing you to earn $METAH tokens and win real horses.
What's interesting today is the US$100,000 Wow Offer!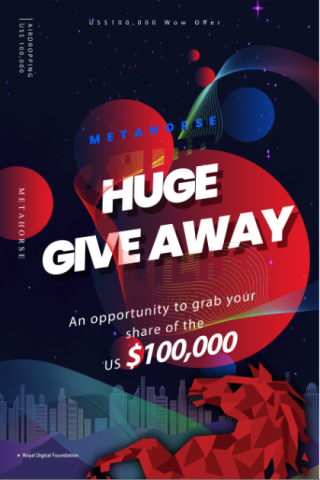 To celebrate the successful start of the pre-marketing campaign, METAHORSE is going to announce a very stimulating yet lucrative opportunity in the upcoming weeks. An opportunity for everyone to grab a fair share from US$ 100,000.
The METAHORSE marketing team, as part of its exclusive giveaway campaign, will be Airdropping US$ 100,000 worth of $METAH Tokens, which can be utilized on the METAHORSE platform or because of their high liquidity they can be converted into USDT. And the most important part is that The Team Metahorse says "this is just a drop in the ocean". There is much more to come.
So, let's join the Metahorse: The gateway into the futuristic Metaverse where the digital equates to reality.
Stay tuned for more exclusive offers from METAHORSE | Where Digital Equates to Reality
For more information and queries about Metahorse, its promotional activities, especially the exclusive giveaway campaigns and the ongoing pre-launch sales campaign, please get in touch with us through the following mediums at any time.
Media Contact
Company Name: METAHORSE
Contact Person: John Chin
Email: Send Email
City: Dubai
Country: United Arab Emirates
Website: https://themetahorse.io/