The MOBI Non-Contact Thermometer is from an established, trusted brand and provides quick, accurate readings for peace of mind at home, in the workplace and more.
(PRUnderground) July 16th, 2020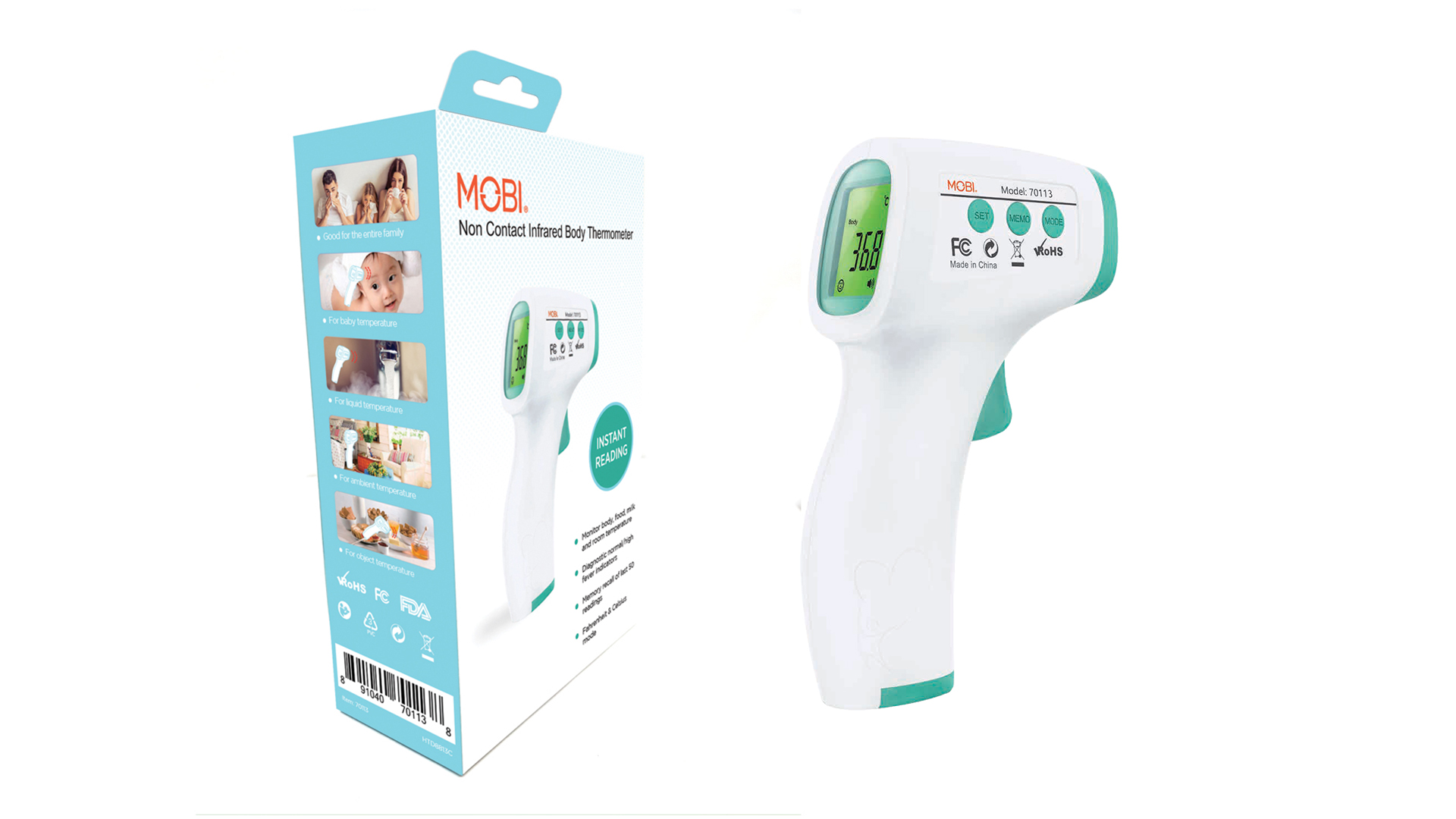 Temperature checks are easier and more accurate than ever for consumers who select the MOBI Non-Contact Thermometer, a reliable device for a company with a track record of nearly 20 years satisfying monitoring and testing needs with FDA-compliant, high-quality products.
Relaxed FDA regulations during the current public health crisis mean it is difficult for consumers to ensure that a digital health thermometer they purchase is genuine, comes from a respected brand and is made to precise standards. Purchasers can trust the MOBI brand wherever they see it, however.
The MOBI Non-Contact Forehead Digital Thermometer is FDA-compliant and is in stock at respected retailers. It measures temperature from 0.5 to 2 inches away and shows each reading on its large screen in 1 second. Designed for quality and durability, this device is made with a top-quality sensor, not an inferior Chinese part. Plus, this non-contact thermometer is backed by our warranty and U.S.-based support.
With the MOBI non-contact digital thermometer, users can keep a close check on loved one, employees, customers and more – without touching anyone or spreading any germs. Check food, milk, bathwater and ambient temperature too.
Other features include an indicator when fever is present, a memory recall of up to 50 recent readings and a large backlit display for rapid assessment. Additionally, this non-contact thermometer includes auto-shutoff to save battery life and both Fahrenheit and Celsius modes for ease of use in every situation. There's no probe and therefore no probe covers are needed.
"At this moment in our history, temperature checks are more important than ever to keep our families and those around us safe and virus-free," said MOBI CEO David Naghi. "Evidence is growing that COVID-19 isn't going away anytime soon, but our non-contact thermometer helps you find additional peace of mind in today's world."
The MOBI Non-Contact Forehead Digital Thermometer is available now from online retailers and brick-and-mortar stores. Consumers can avoid being misled by lookalike imitations by always selecting a MOBI branded device sold by a reputable website or store.
Through the decades, through health crises and whatever life throws at consumers, the MOBI name stands for quality and a commitment to excellence in health monitoring products and more. For almost nearly two decades, MOBI has been bringing to the marketplace useful, carefully-designed innovations for American consumers, including non-contact digital health thermometers, wifi video monitors and more. Stay safe and well with MOBI.
About MOBI Technologies
MOBI is a provider of home health technology products including but not limited to: thermometers, cameras, blood pressure monitors, door sensors and other consumer and enterprise solutions. Lead by founder and CEO David Naghi, who has more than 35 years' experience in the consumer electronics industry, MOBI is committed to bringing products to the marketplace that give you and your family better, smarter choices. For more information, please see www.getmobi.com
Press Contact
Name: Lizzie Gurrola

Phone: 323-904-3014

Email: Contact Us

Website: https://www.getmobi.com
Original Press Release.