Now more than ever, it's important to keep a check on the health of every family member – and it's easy with this talking ear and forehead digital thermometer.
(PRUnderground) July 30th, 2020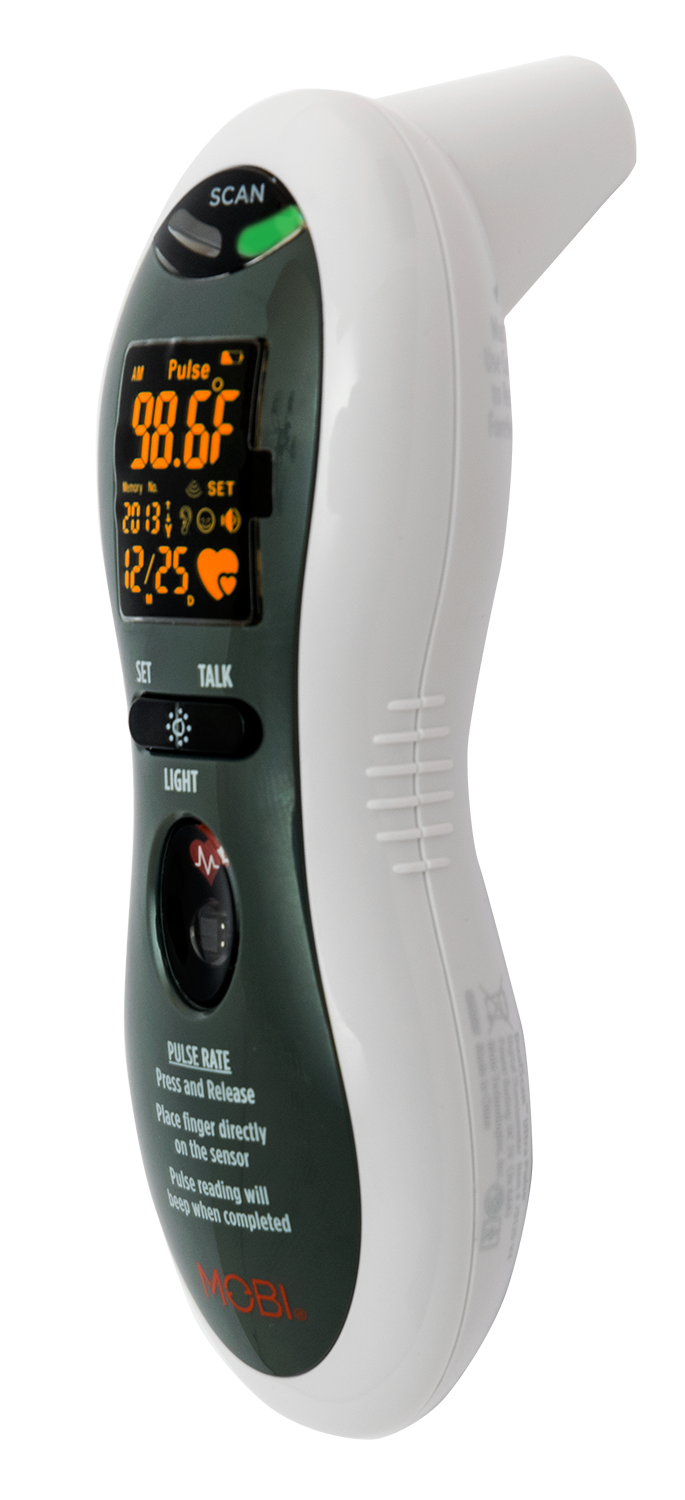 Because close monitoring of body temperature is crucial to maintaining personal health and the health of others during the ongoing health crisis, now is the right time for families to upgrade to a feature-rich digital health thermometer that's proven accurate, simple to use and easy to read.
The MOBI DualScan ULTRA PULSE Talking Ear and Forehead Digital Thermometer allows for checking temperature at the ear or on the forehead with no probe or probe covers – and it speaks the reading in one of three available languages. Results are shown and spoken in just 1 second so users don't have to inconvenience or disturb family members for long.
The ability to detect temperature in two different ways makes this digital health thermometer right for everyone in the family. Users can check their own temperature or someone else's either by inserting the device into the ear canal or touching it to the forehead. Results are just as quick either way. A fingertip pulse checker sets this device apart from many others on the market and provides extra value for the low price.
Additional features include a flashlight that makes it easy to record readings or perform other tasks in a darkened room, a bright backlit screen, normal and fever indicators, memory recall of the last 30 readings and more. Lookalike models and imitations do not provide all these features or provide the accuracy users need for true health assessment.
"At MOBI, we've always been committed to consumer health and have been a leader in digital thermometers for years," said CEO David Naghi. "This ear and forehead thermometer is designed to provide a wide array of consumer-requested features in an affordable device that's easy to use. And we're proud of the streamlined, ergonomic design. It's just as perfect for precautionary temperature checks at work as it is for leaving on a bedside table at home."
Look for the MOBI DualScan ULTRA PULSE Talking Ear and Forehead Digital Thermometer and other high-quality MOBI home and health monitoring products at online and brick-and-mortar retailers. Target will soon receive a restock of MOBI DualScan Ultra Pulse Talking Ear and Forehead Digital Thermometer, and you will soon be able to purchase one in-store at your local Albertsons.
For each day and no matter what happens in life, MOBI is a proven brand that stands for quality, beauty in design and ease of use. For almost 20 years, this California-based company has been offering products that consumers want with features they need, including wifi video monitors, digital health thermometers and more. Stay safe and well with MOBI products.
About MOBI Technologies
MOBI is a provider of home health technology products including but not limited to: thermometers, cameras, blood pressure monitors, door sensors and other consumer and enterprise solutions. Lead by founder and CEO David Naghi, who has more than 35 years' experience in the consumer electronics industry, MOBI is committed to bringing products to the marketplace that give you and your family better, smarter choices. For more information, please see www.getmobi.com
Press Contact
Name: Lizzie Gurrola

Phone: 323-904-3014

Email: Contact Us

Website: https://www.getmobi.com
Original Press Release.