Childhood cancer won't stop because of a pandemic, so neither will he.
(PRUnderground) September 14th, 2020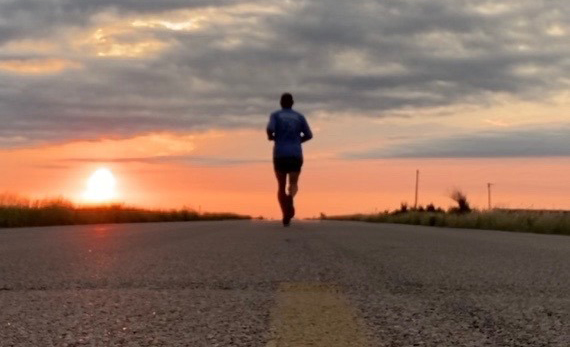 Peter Halper of Fond Du Lac, Wisconsin is running over 3,100 miles across the United States. He kicked off his journey in Dana Point, California on July 6 and will run to Rehoboth Beach, Delaware, completing the run in mid-November. 
It's called Emery's Thunder Run. Running over a marathon a day, 6 days a week, Halper runs to raise funds for better treatments for neuroblastoma (a type of childhood cancer) and to support families with children battling the cancer. Currently he is running through Kansas, having just passed the half-way point for the run.
Halper began planning the run two years ago and was scheduled to start in April 2020. But due to COVID-19 the start was postponed. After months of waiting and delay because of the novel virus, Halper chose to start his trek in July with the pandemic still in full swing. He is often asked why.
"It's a good question and I appreciate the question, but we're not running despite a pandemic. I'm running because of it, more or less, because the parents who are going through Neuroblastoma with their kids… their issues don't go away. It's just compounded everything for them. So it's even more important that we continue on," Halper said.
Halper runs with a rotating crew of volunteers, organized through a nonprofit called Emery's Memory Foundation. In addition to COVID-19, Halper's run has been filled with challenges including shoe-melting heat in California, road closures along his route and wildfires in Colorado. But Halper refuses to quit on these kids.
"The desire that motivates me in running is that the hurting, those that I run for, will feel even the faintest whisper of 'I am seen,' Halper said. "Running has become my way of saying 'I see you' and I am doing all that I can to help."
Halper's goal is to raise $200,000 by the end of the run. Funds are donated via Emery's Memory Foundation and will go toward Beat Childhood Cancer for better treatments for neuroblastoma and to support families with children battling the cancer. 
"If in the end one life is saved… I personally find that worth any hardship we might have endured," Halper said.
About Emery's Memory Foundation
Emery's Memory Foundation is a nonprofit near Kansas City, Missouri. This organization serves to fund research, raise awareness and support families fighting neuroblastoma, a type of childhood cancer. Created in memory of Emery Smith, who passed away at the age of three during her brave battle with neuroblastoma. To learn more or donate, visit https://www.emerysmemoryfoundation.com
The post Despite COVID-19, Peter Halper Runs Across US For Kids With Cancer first appeared on PRUnderground.
Press Contact
Name: Jenna Smith

Phone: (816) 352-1135

Email: Contact Us

Website: https://emerysmemoryfoundation.com
Original Press Release.