How Much Are Earnings Really Affecting Stock ETFs?
October 27, 2020 at 15:02 PM EDT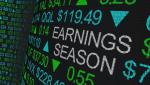 This week has been key for corporate earnings, with nearly 170 S&P 500 companies reporting, including tech behemoths like Apple, Amazon and Alphabet set to release reports this Thursday. What's more, economic data like the Q3 GDP is also set to be released on Thursday, which could...