Come join our virtual market at https://tsctalks.com/virtual-holiday-marketplace/
(PRUnderground) December 12th, 2020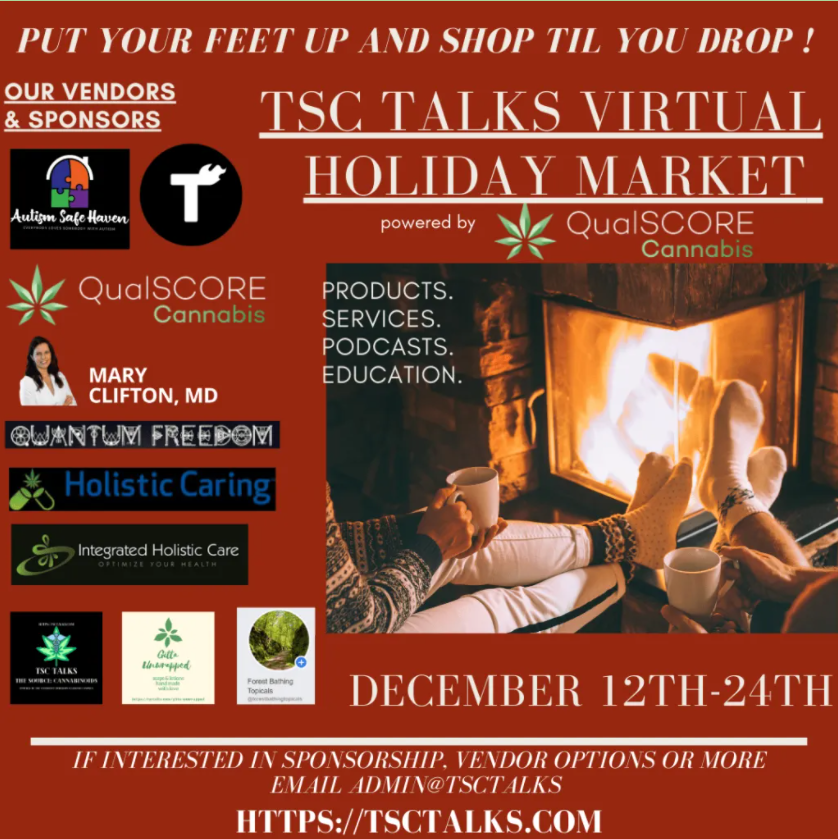 Holiday markets and pop-up stores have become a staple of the Holiday season. This year, most markets will be closed to slow the spread of COVID-19. But that doesn't mean that you can't still go to a Virtual Holiday Market. From December 12th to December 24th you can visit the TSCTalks virtual holiday market. https://tsctalks.com/virtual-holiday-marketplace/
TSCTalks co-owner Jill Woodworth commented, "So many markets and holiday events are closed this year! I like going to markets, and I know so many people who planned to sell health and lifestyle-related products and services at a Holiday Market or Pop-Up store that have nowhere to go. My partner Lisa Larson and I thought that we should create our own show. I want everyone to come and join us. There are products to buy, and some vendors are putting together virtual demonstrations, discussions, and shows. Look for them on Meetup! We will be posting them as they are scheduled. There's plenty of room for customers and new vendors. "
Vendors and meeting hosts include Mary Clifton (MD), Autism Safe Haven, Forest Bathing Topicals, Quantum Freedom, Gitta Unwrapped natural gifts, Holistic Caring, Integrated Holistic care, and more, with Qualscore Cannabis as the market's sponsor.
If missing the Holiday Markets is dimming your Holiday spirit, come to the TSCTalks Virtual Market, everyone is welcome!
About TSC Talks
TSC TALKS. Inspired by the condition Tuberous Sclerosis Complex. Providing digital audio & video content and products designed to educate, illuminate, support, and advocate "off the grid" alternative and hemp medicine options for marginalized populations. Providing a forum for communication, collaboration, resources, and opportunity. Drawing from lived and learned experience All with the goal of coming together to affect change, bridge gaps, and empower as we come together to better understand each other's predicament and validate the need for access, affordability that often keep those with chronic, life-threatening conditions from exploring options. Options that CAN open the doors of perception to understanding our exceptional variability as human beings and the "one size fits all" aspects of traditional medicine that are not conducive to bio-psycho-social health, stability, and longevity. Come join us as we dig deep into issues and concepts that need to be given some thought and discussion in order to truly "walk a mile" in another's shoes!
The post Winter Is Coming… And the TSCTalks Virtual Holiday Market is here! first appeared on PRUnderground.
Press Contact
Name: Chris Niccolls

Phone: 212-628-1191

Email: Contact Us

Website: https://tsctalks.com/
Original Press Release.