Plant-Based Foods Leader Has Reduced Water Use by Nearly 750 Million Gallons Per Year Since 2013
SOURCE: Del Monte Foods, Inc.
DESCRIPTION:
WALNUT CREEK, Calif., June 6, 2022 /3BL Media/ – At Del Monte Foods, Inc., one of the ways we're committing to being Growers of Good™ is by reducing our use of water – nature's most precious resource. Through a dedicated focus on decreasing the amount of water used in our operations, we've reduced usage by nearly 750 million gallons a year since 2013. We don't plan on stopping there.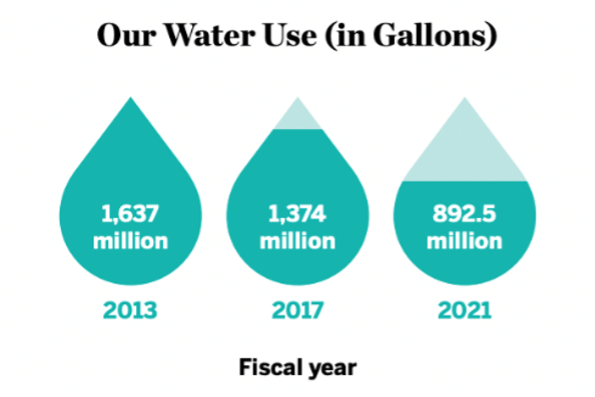 In response to climate-related risks such as changing precipitation patterns, rising temperatures, and more erratic growing seasons, Del Monte Foods is continually assessing how we can reduce our impact on local watersheds and to prepare for current and future droughts in the areas where we source crops.
"Water is a critical resource for all of us in order to have access to food," said Greg Longstreet, President & CEO of Del Monte Foods. "Conserving the amount of water we use across our business remains a top priority, especially as we see climate patterns continue to change and intensify. Together with our growers, we will continue to take bold action to preserve earth's greatest resource for future generations."
To drive water reduction, Del Monte Foods has a dedicated Water Reduction Task Force that is continually identifying ways to decrease water use across our facilities, especially those in high water-risk areas. The Task Force has been focused on key areas including source water reduction, water recycling, and agricultural processes.
Source Water Reduction
The amount of water Del Monte Foods uses in the production of products is a direct way we can reduce the amount of water we source. One way we're doing this is by investing in sophisticated equipment that increases water efficiency. For example, at our Hanford, CA plant, the investment in a tomato steam peeler has reduced the amount of water needed to peel our tomatoes by more than 35 million gallons a year. In addition to equipment investments, we also continue to examine sanitation procedures across our operations to ensure the right amount of water is always used to maintain high food safety standards without being wasteful.
Water Recycling
Much of the water used in our processes can be reused many times to ensure that we are taking full advantage of this precious resource. We follow strict protocols around well water use and spray discharge for the water used in our manufacturing processes. Much of the water that is used to move products through our production system, and to cool cans after they are sealed, is recycled in our system. For example, at our plant in Yakima, WA, we installed a water recycling system that reuses the water that conveys our pears, resulting in a water usage reduction of 1,000 gallons per day.
Agricultural Water Use Reduction
Together with our growers, Del Monte Foods is reducing agricultural water use through efficiency measures, use of drought-resistant seeds, and drip irrigation. At our plants, we discharge used and treated water onto spray fields where it can support the growing of additional crops and can re-enter and recharge groundwater stores. For example, all our growers in central Washington state use center pivot irrigation so they can closely control their water use — using only as much or as little as needed. Other growers in Wisconsin have converted to 100% low pressure irrigation systems, generating electrical savings while decreasing evaporative loss by 30%.
"Access to water across communities, industries and geographies is threatened by climate change," said Molly Laverty, Environmental, Social and Governance (ESG) Senior Manager at Del Monte Foods. "While Del Monte Foods is not alone in addressing the challenges posed by climate change, we are committed to taking aggressive, sustainable action to protect the future of our growers, farmland, and access to food for all."
Learn more about Del Monte Foods' commitment to reducing water use and other Environmental, Social & Governance efforts in our Sustainability Report.
About Del Monte Foods
For more than 135 years, Del Monte Foods, Inc. has been driven by our mission to nourish families with earth's goodness. As the original plant-based food company, we're always innovating to make nutritious and delicious foods more accessible to consumers across our portfolio of beloved brands, including Del Monte®, Contadina®, College Inn®, S&W® and Joyba™. We believe that everyone deserves great tasting food they can feel good about, which is why we grow and produce our products using sustainable and earth-friendly practices for a healthier tomorrow.
Del Monte Foods, Inc. is the U.S. subsidiary of Del Monte Pacific Limited (Bloomberg: DELM SP, DELM PM) and is not affiliated with certain other Del Monte companies around the world, including Fresh Del Monte Produce Inc., Del Monte Canada, or Del Monte Asia Pte. Ltd. For more information about Del Monte Foods and our products, please visit www.delmontefoods.com or www.delmonte.com.
Media Contact:
Courtney Mains
Edelman
Courtney.Mains@edelman.com
408-835-5323
Related Links
http://www.delmontefoods.com
SOURCE Del Monte Foods, Inc.
Tweet me: As Growers of Good, @DelMonte is committed to reducing its use of water – nature's most precious resource. Learn how Del Monte Foods, with a dedicated Water Reduction Task Force, is decreasing water usage across its supply chain. https://bit.ly/3mcWMK7
KEYWORDS: Del Monte Foods Inc., Water reduction, climate risks, Water Conservation, Source Water Reduction, water recycling