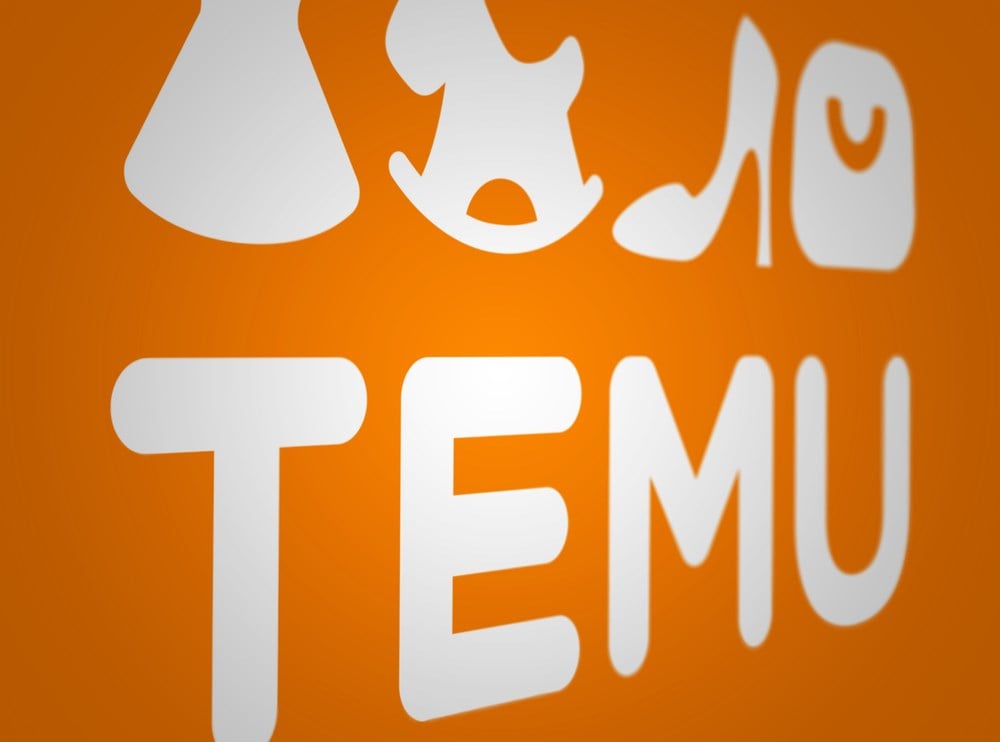 Chinese e-commerce giant PDD Holdings (NASDAQ: PDD), which just reported strong earnings results, is looking to disrupt the US fast-fashion market with its new app targeted at the international market, Temu.
PDD is no stranger to rapid growth. The upstart firm started from zero in just 2015 to become the second-largest e-commerce platform in China today, just behind Alibaba's Taobao.
With solid earnings results indicating PDD is gaining ground over domestic competitors, the Temu catalyst means that PDD stock will likely be a trader's battleground for several months.
PDD Holdings: A Quick Rundown
PDD Holdings (NASDAQ: PDD) mainly operates Chinese e-commerce platforms, with Pinduoduo being the largest. However, Pinduoduo differs from Amazon or eBay concerning its social shopping features. The app encourages users to invite friends to make team purchases and get bulk discounts. The bigger the team, the deeper the discounts.
As a result of this growth tactic, Pinduoduo has become one of the biggest e-commerce platforms in China. By forcing its users to refer friends to get discounts on the platform, Pinduoduo utilized a "viral loop," which continuously brought the platform new users without additional marketing spend.
Pinduoduo bypassed JD.com in 2021 to become China's second-largest e-commerce platform, second to only Alibaba's Taobao. So it's no surprise that the firm's revenue growth numbers are dizzying, growing at a 77% CAGR since it went public in 2018: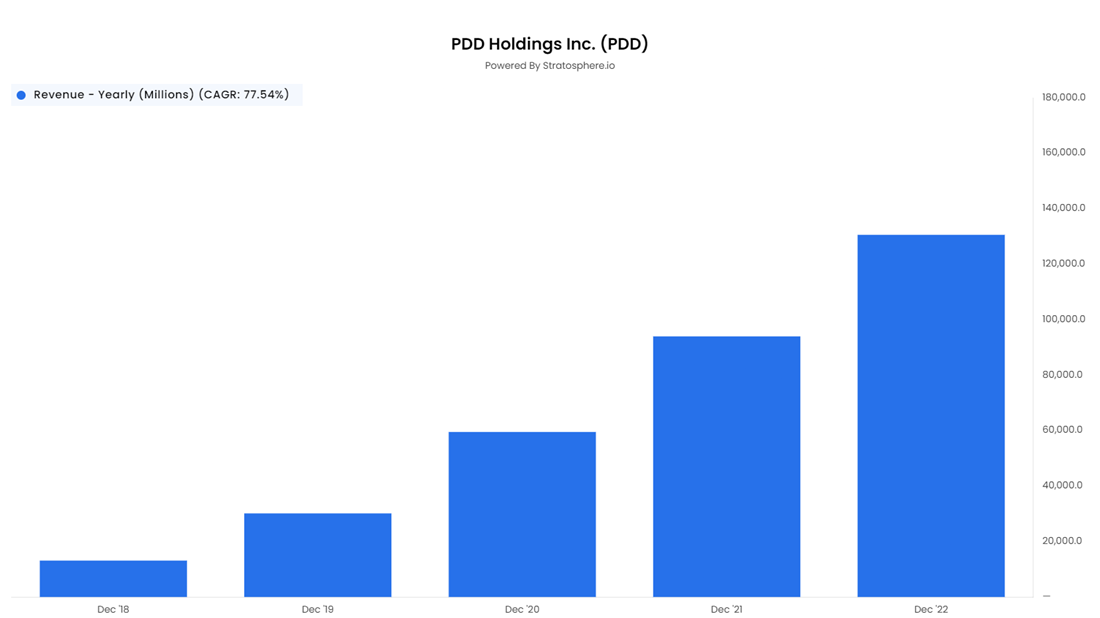 Unlike many other high-growth tech stocks, the company is profitable and boasts an impressive 19% free cash flow margin. 
The company launched Temu in September 2022 to expand into international markets. Executives set a goal to log more revenue than competitor Shein for at least one day between its launch and September 2023.

Great Earnings During a Slow Period
Q1 is typically relatively slow for retail in China, as it falls during Chinese New Year when commerce declines. That didn't stop PDD Holdings (NASDAQ: PDD) from shattering analyst expectations and logging a great quarter. PDD's biggest competitor, Alibaba, reported lukewarm numbers in its e-commerce unit earlier this month.
The company notched a 58% increase in year-over-year revenues, pulling in a record $5.4 billion. Net income also catapulted up 212% compared to Q1 last year, making for a $1.4 profit in the quarter.
While the company didn't give specific data on the revenue produced by its international platform Temu for the quarter, executives said that the number was small compared to the rest of the company.
Following the earnings report's release, PDD rose 19% and broke the downtrend pattern the stock has been in since its last earnings report. The report also gave Chinese internet stocks a momentary boost on Friday, which saw the China Internet ETF (NYSE: KWEB) rise 3%.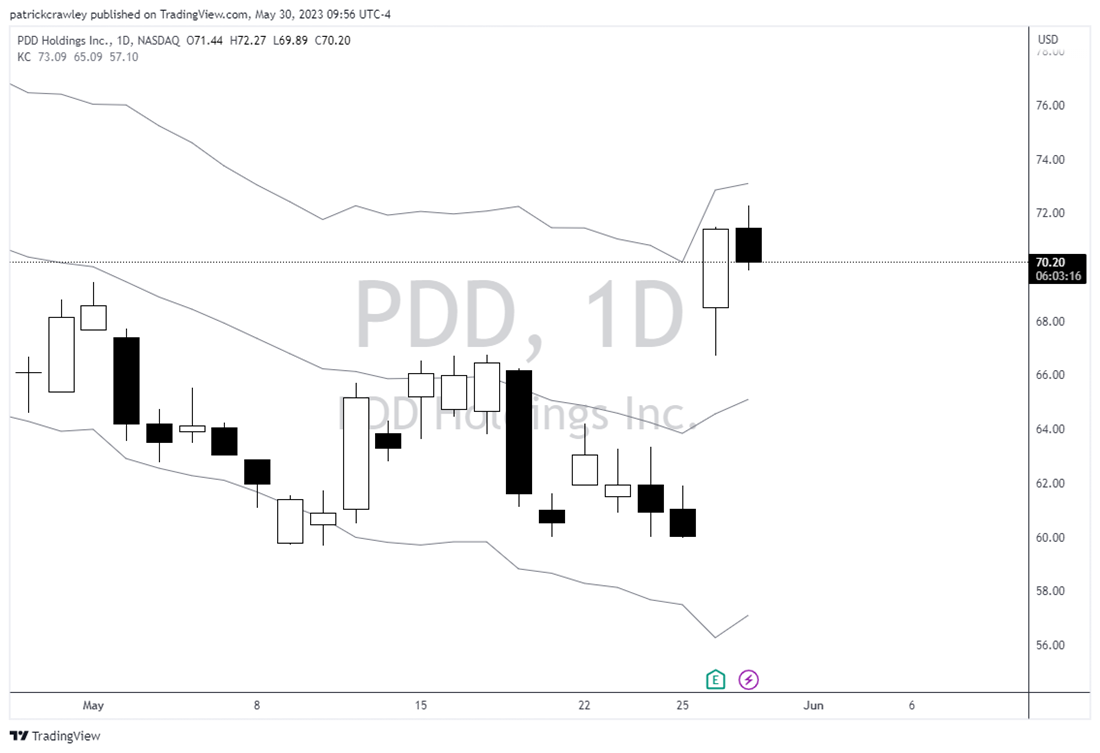 Temu: A Massive Opportunity Abroad
PDD Holdings (NASDAQ: PDD) is moving internationally with a new shopping app called Temu. The app, launched in September 2022, sells made-in-China products very cheaply. Temu is slated as a direct competitor to the fast-fashion app Shein.
Temu, currently available in the United States, Canada, and Australia, has already garnered over 10 million downloads. The app is number two in the Apple App Store, ranking above ChatGPT, Shein, and TikTok.
For those unfamiliar with Shein, which Temu plans to compete with aggressively, it's a viral fast-fashion app featuring many "dupes" or duplicates of more expensive brands at a fraction of the price. According to the Financial Times, Shein is a behemoth with estimated 2022 revenue of $22.7 billion.
PDD has lofty visions for the app and is putting a target directly on Shein's back. It aims to report at least one day with a sales volume higher than Shein's by September this year. But in the long-term, executives at PDD seek to challenge Amazon and eBay.
Bloomberg estimates Temu achieved $500 million in gross merchandise value during its first five months of operation. While that figure is impressive, the average daily revenue for Shein is about $63 million, according to estimates.
And the evidence shows that PDD is making progress toward its September goal. Between a Super Bowl ad, headhunting Shein employees, and holding a top ranking on app stores for several months, it's clear that PDD is making deep investments to make a serious challenge to Shein and other US e-commerce platforms.
The challenge to Shein will undoubtedly be expensive, with no guarantee of success. Because PDD doesn't present at investor conferences nor issue many press releases, interested investors should keep an eye on media outlets like Bloomberg and the WSJ for updates on how Temu is doing on hitting its goal before September.