(PRUnderground) August 17th, 2020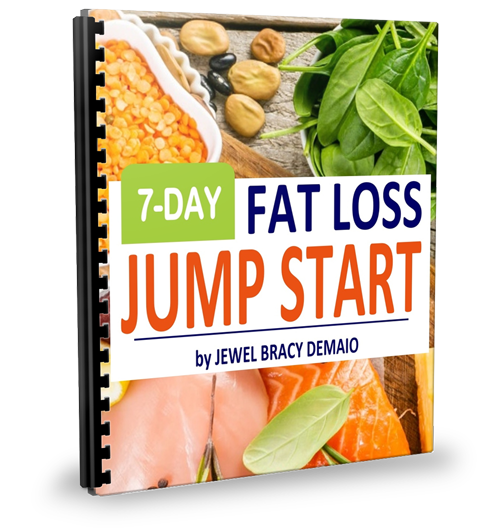 The new release of the 7-Day Fat Loss Jump Start reveals practical advice for losing weight without restrictive dieting or heavy exercise. The free ebook is now available at ourhealthycompetition.com/only7days.
Author Jewel Bracy DeMaio, who operates OurHealthyCompetition.com, says the ebook is geared towards people who want to see results quickly, while still using reasonable means to achieve them. "I walk readers through the simple steps to take – all of which involved real food at normal prices from regular grocery stores," she says, "As a matter of fact, on this plan, I was able to actually cut my exercise time in half and still see results."
The ebook is particularly timely as the US continues to be under varying levels of quarantine restrictions because of COVID-19. "People have been stuck at home," Bracy DeMaio says, "Gyms that have been closed for months are reopening at limited capacity. Grocery stores, even though they're essential businesses, have also periodically seen limits on what's available, plus limits in the number of people who can patronize them at one time."
The ebook helps readers strategize on what their diet needs to be, based on good vs. bad fats, and what to eat in order to feel fuller longer. It also features tips from celebrity trainers, in addition to three famous celebrity diet plans.
Bracy DeMaio started her weight loss journey and lost more than 50 pounds as a result. "I reached my goal and thought I was done, but no one told me about maintenance. My journey now is about maintaining the success I worked so hard to reach." She aims to help others who experience cycles of yo-yo dieting, which can persist for months or even years.
Bracy DeMaio took up running and Bikram yoga, and exercised 6-7 days per week. "I've been looking for a way to cut back on the time I devote to exercise, while still achieving my fitness goals." The 7-Day Fat Loss Jump Start features easy cardio workouts, outlines the pros and cons of low- and high-intensity workouts, and presents a yoga practice suitable for people with any level of yoga experience.
Knowledge is a key component of any sustained health and fitness journey. Bracy DeMaio is a candidate for the Advanced Nutrition Certificate from ACTION Certification, an organization providing NCAA-accredited certifications in 160+ countries worldwide.
She shares more information in a private Facebook group, "Just Lose It!" where people can learn and share about a broad range of health and fitness topics. Join the group here: facebook.com/groups/justloseitgroup/
About OurHealthyCompetition.com
Press Contact
Name: Jewel Bracy DeMaio

Phone: 267-712-9468

Email: Contact Us
Original Press Release.