Responding to customer requests some of Nico's Organics best-selling products are now available as enhanced CBD versions, to maximize holistic health and wellness benefits.
(PRUnderground) April 29th, 2021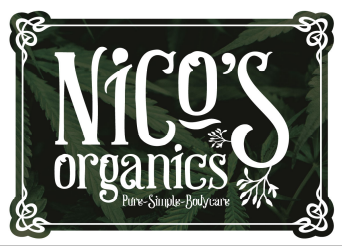 Today more people are realizing the benefits of CBD in their daily life – it is not just for pain relief and relaxation, many people consider CBD to be a vitally important ingredient in their products for health and wellness. Unfortunately, many CBD products on the market today also contain chemicals and preservatives, things that natural health enthusiasts do their best to avoid. The good news is that a popular Chicago, Illinois-based natural bodycare company Nico's Organics recently announced the launch of its new Nico's Organics Pure Organic CBD Body Care line, featuring some of its most popular organic products now enhanced with CBD. The new line has been met with great enthusiasm and Nico's Organics is very excited about the current offering of products and the additional products that will be introduced next month!
"All of our products are made by hand to be pure, holistic and natural using ingredients the way nature intended them to be used, without any preservatives, additives or synthetic ingredients," commented Judy Dominico, the passionate founder and CEO of Nico's Organics. "We are very excited to now offer CBD versions of some of our most popular products and as always, we are creating pure, simple, organic body care made with love!"
To celebrate the launch of the new Nico's Organics Pure Organic CBD Body Care line the company is including a FREE Peppermint CBD Lip Balm with every order – a $6.50 value (offer good until 5/31/21).
According to the company, the new CBD product line currently includes: Mom's Balm with CBD (in two strengths 1000 mg and 500 mg) consisting of a blend of essential oils, herbs and broad spectrum CBD intended to help give relief to sore muscles and joints; Peppermint Lip Balm with 25 mg broad spectrum CBD, to help moisturize and nurture oral health; Whipped Body Butter made from shea & coco butter with the added boost of broad spectrum CBD to provide you with a luxurious body butter for healing dry skin; and Zechstein Magnesium Oil with nano CBD, which delivers the highest quality, natural version of magnesium, a mineral that is absolutely essential for vibrant health.
Free shipping is available on all orders over $75.
For more information or to order be sure to visit https://nicosorganicscbd.com and stop by to read some of the educating articles such as: https://nicosorganicscbd.com/blogs/news/cannabinoids-what-are-they.
Disclaimer: The statements made regarding these products have not been evaluated by the Food and Drug Administration. This press release is not intended to be a substitute for professional medical advice, diagnosis, or treatment. Please check with your doctor. The news site hosting this press release is not associated with Nico's Organics. It is merely publishing a press release announcement submitted by a company, without any stated or implied endorsement of the product or service.
About Nico's Organics
We believe that the products we use on our bodies, like the food we eat, should enhance and benefit our health, not detract from it. All Nico's Organics products have been created with that in mind. We combine organic and sustainably harvested plants, herbs, and oils, from the earth, to make people look and feel great.
The post Nico's Organics Launches new Line of Organic CBD Enhanced Bodycare Products first appeared on PRUnderground.
Press Contact
Name: Judy Dominico

Phone: 312-380-5939

Email: Contact Us

Website: https://nicosorganics.com
Original Press Release.