(PRUnderground) May 14th, 2021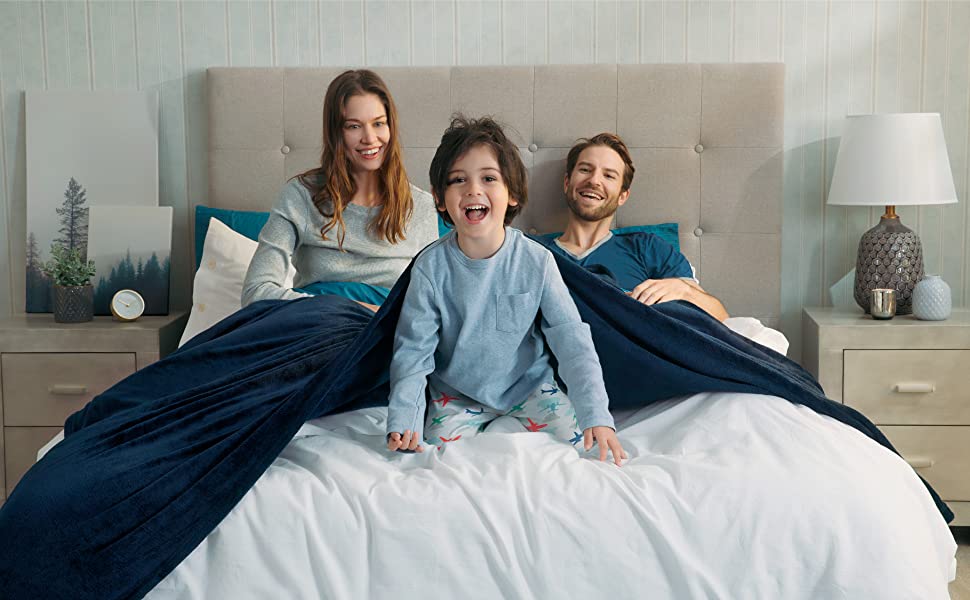 It's hard to beat a blanket that hits all the marks: Comfortable, soft, durable, lightweight, good looking and at an affordable price. Bedsure Home's Flannel Fleece Blanket has thousands of Amazon reviews.
Globally, textiles have been made for over 30,000 years. Over that time, the textiles industry has evolved to become a major force, offering customers a wide variety of products with multiple benefits. Today, we rely on textiles in all aspects of our lives, including in clothing and bedding. People use a wide variety of fabrics to make life more comfortable, safe, secure and beautiful.
One of the most popular – and comfortable – fabrics is fleece. It's soft, smooth and warm. It's become a household name in North America, finding its way into many apparel wear and bedding products.
Though many people think of wearing a warm fleece jacket outside in cold winter, fleece is versatile enough to be used in a variety of clothing and bedding. Lighter and softer than wool, fleece can be used as blankets, throws and wearable blankets. With many brands producing and selling fleece blankets, how do you know which one is a best?
Having produced a variety of textiles for several years, Bedsure Home has produced several bestselling products on Amazon.
Like other blankets, Bedsure Home's Flannel Fleece Blanket is comfortable and made out of polyester. The flannel part means that the fibers are woven in a particular way and are soft as well as insulative. Modern day usage of the word "fleece" usually refers to a fabric that imitates the insulating qualities of wool, yet is softer and often synthetic. As in many other fleece products, this Flannel Fleece Blanket is soft and cozy.
What makes the Bedsure Home Flannel Fleece Blanket stand out as a great product is the way it is made, and the price. Compared with similar products, the Bedsure Flannel Fleece Blanket has a [Denier] of [12] and a 192 Filament. Denier is a measurement of fiber thickness and gives us an idea of how thick or sheer a fabric is. Filament refers to a thread's length and is different than a staple fiber in that it is a continuous, almost infinitely-long fiber. In contrast to short Staple Fibers, Filament Fibers are less resistant to pulling and shedding.
Unlike other bedding products with a 150 Denier and 192 Filament, the Bedsure Flannel Fleece Blanket has a Denier of 120 meaning that is less dense and heavy, yet still strong. This makes it more versatile for all weather use, including in the spring and summer.
In addition, the Bedsure Home Flannel Fleece Blanket has available in 30 different colors. This means there is a color for everybody – for every bed and couch. Not only that, with the large 109" x 90" blanket having a price of $30.99, this makes the product highly affordable and accessible to a wide range of customers.
With over 86,000 reviews on Amazon, the Bedsure Home Fleece Blanket has been voted as a #1 Bestseller in the Bed Blankets category.
About Bedsure
Cozy up to snug, warm home linens from Bedsure. From the moment you wake up to the second you fall asleep, we aim to make you and your family comfortable. That's why we're always dreaming up new products to help you sleep well, wake up refreshed, and have that extra bit of comfort throughout the day. And because cost shouldn't stress you out, we bring everyday value to everything from household basics to a range of high-tech fabrics and sleep solutions. Our products suit every budget and are made for the way you live, all delivered directly to you with a smile.
The post Bedsure Home Offers Best Selling Flannel Fleece Blanket first appeared on PRUnderground.
Press Contact
Name: Daniel Menges

Phone: +8615520777242

Email: Contact Us

Website: https://bedsurehome.com/
Original Press Release.